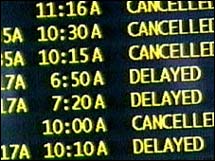 For those of you uninitiated in traveling with a team, let me tell you, it's sort of like watching an amoeba....the gang mostly stays in a circle, and every now and then a smaller group moves away from the group like a cell trying to reproduce, and eventually, most of the rest of the group follows suit and moves to them, keeping the amoeba intact. It's just sort of funny.
So, after a whirlwind bit of travel, going from
ISU
men's basketball Friday night to driving to
Missoula
to the football game to driving back right afterward just so I can get up at 5:15 (what is the deal with the 5:15s I've been awake for this year?) to go to the Salt Lake Airport for a near 7 hour flight to Hawaii, we missed our connection in LAX, so we have a three-hour wait, meaning we'll get back to Holt at 4:30 pm instead of 2:00 pm...oh well, at least they have free
internet
.
The one thing you cannot possibly do well on a plane is sleep...it's just not possible. I had two seats, and I'm not the biggest character in the world, but I couldn't get comfy. Mark Campbell had THREE seats and laid out across them like a bed and didn't get much sleep at all either. Traveling is hard, and there is a reason it's hard to win non-conference games on the road....recovery is just hard.
For those that missed it....
Idaho State just did get nipped by
Hawai'i
, 67-64 in overtime, and while
ISU
had PLENTY of chances, the fact that
ISU
played 45 minutes of zone defense and got whistled for 29 fouls is comical, especially when
Hawai'i
played man-to-man all game, and a full court trap for 15 minutes, and got whistled for just 21. Also, the same three officials that worked the four-game
Hawai'i
tournament the previous two days worked the game ... it's just interesting. Anyway, here is the
Honolulu Advertisers
's perspective, and here is
ISU's

take
as well, plus
Kellis's

running blog of the event
, and
this as well
...we missed ya' buddy.
Doing the Charleston
Jeff Charleston is doing pretty well for the Saints after getting picked up at
midseason
,
as this attests
. The article doesn't mention that Jeff also worked for a bit on his dad's ranch to help stay in shape, and I know that because Jeff's dad told me that after the Portland State game.
Not an earthquake....just the bandwagon jumper-offers...
Kelvin
Ang
posted a few thoughts about

ISU's

opening weekend
, and his comments are pretty good. Nice of some of the "fans" to practice
jumpship
in the comments section after the first three games of the season, back-to-back-to-back with a new coaching staff and offensive scheme in the first games after two of the program's greatest players have left. Seriously....it's game three....the fact that
Sobolewski
picked up a win in that third game is great, especially after opening with two probably NCAA Tournament teams to start.
One Last Game...
Football is
heading
into their final game (bring a can of food for buy-1-get-1-free....) and the Olympian in Washington has a
great profile on

Jaron

Taylor
. The Montana student newspaper has a
conference final weekend outlook going
, but I haven't heard too many folks bring up this point...Weber State is in, but if Montana State wins the Brawl of the Wild this week, they are 6-2. Montana would be 6-2, so Montana State would be in second place, and they would be playoff eligible to get in with their 8-4 record and seven Division I wins...do they get in? If the west gets four...well, Cal Poly is a shoe-in, right? Weber State is in....if they consider the
Southland
a west school, there might be a debate about Montana State. I have a feeling they would get left out due to the perceived East Coast bias, but I could see a case where they get in too. I can't imagine Montana getting left out, but it would be odd to see the second place Big Sky team left out for the third place, no? Could happen though...
that'll
be an interesting game to see on Big Sky TV...
From the Los Angeles International airport....that's about it. Cody
VanFleet
looks exhausted by the way...also, congrats to Mark
Liptak
, who made his re-debut on the air for Bengal women's basketball...heard nothing but good things about the broadcasts...