For those of you that listen to ISU women's basketball, you have gotten to know the styling of Mark Liptak. Suffice to say that it's not all basketball in those broadcasts...you will get some arcane references (and that is saying something since my football notes are regarded as the king of arcane references). Still, the Lipper is known here in Southeast Idaho as the Voice of ISU women's basketball. However, did you know that he is known nationally for his work with White Sox Interactive (www.whitesoxinteractive.com)? Mark, a die hard Sox fan (I raced to his house and doused him with champagne after they won it all in 2005), lives out a fantasy of sorts, talking with old White Sox players and personalities for interviews, which have become a regular and popular feature of the site, and
almost all of his interviews are found here
. (Seriously...he interviewed Wilbur Wood, Milo Hamilton, Mike Veeck, Jim Kaat....I mean wow....)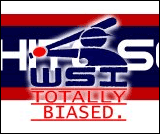 Anyways, Mark submitted a blog post for me, and as opposed to trying to explain how to post here (which is easy, but I digress), I told him I'd post it here, so without any further ado...here's the Lipper.
Notes From The Season:
By Mark Liptak
Frank was kind enough to allow me some of his blog time to talk a little about the season and things around the Big Sky Conference from a women's basketball standpoint.
First off, I echo his comments regarding head coach Seton Sobolewski. The job that he (and by proxy) his staff did was pretty amazing. With everything that happened, starting almost as soon as he took over, with two players transferring, he has had to fight and scrap to keep his program competitive. Needless to say that was accomplished.
Next year with the way things are shaping up, he's probably going to have a "full boat" of players.
As it stands right now, he'll have five returning scholarship players who were healthy (Adams, Iacovita, Diehl, Guertin and Peets), four incoming freshman signees (including a tall post player and the player of the year from Arizona), two returning scholarship players who were injured (Pickering, Videbeck), two players returning from academic issues (Blodgett, Lambert), the transfers who will become eligible (Natalie and Nicole Hawkins) and the walk-on (Kari Green).
That's 16 players right there if (granted that's a big if) everyone returns. Plus I strongly suspect Seton and his staff is not done recruiting for this year. It wouldn't surprise me in the least to see where two more players, probably of a junior college variety are added before the end of May.
That pushes the number to 18 possibilities. After this season that is surely refreshing and welcome by all.
---------------------------------------------------
I don't get a vote in the season ending conference honors but if I did, here is how my ballot would look:
Coach of the Year: Seton Sobolewski – Idaho State
Freshman of the Year: Katie Bussey – Montana State
Most Valuable Player: Kelsey Kahle – Portland State
Offensive Player Of The Year: Kelsey Kahle – Portland State
Defensive Player Of The Year: Michelle Grohs – Idaho State
---------------------------------------------------
As far as my "conference All-Stars" (you can debate first team, second team and so on) in no particular order:
Jenna Brown – Idaho State
Michelle Grohs – Idaho State
Oana Iacovita – Idaho State
Courtney Stoermer – Northern Colorado
Julie Piper – Eastern Washington
Claire Faucher – Portland State
Kelsey Kahle – Portland State
Kelli Valentine – Portland State
Britney Lohman – Montana
Mandy Morales – Montana
Sonya Rogers – Montana
Nubia Garcia – Montana State
Erica Perry – Montana State
Sade Cunningham – Northern Arizona
Charday Hunt – Sacramento State
Caitlin Anderson – Weber State
Tonya Schnibbe – Weber State
Sarah Connor – Weber State
As you can tell, the Big Sky was a "guard heavy" league this year but that's O.K. Give me any five of the players I listed above and I'll win a lot of games.
-----------------------------------------------------
Finally my thoughts on the Big Sky venues I saw this season, many for the first time. This is in order of preference if I was a player:
1. Weber State – The best in the league. It's interesting that every major college in the state of Utah has a first class facility. (BYU, Utah, Weber State, Utah State, Southern Utah and Utah Valley State.)
2. Eastern Washington – A very nice facility. Well lit, good floor, lots of room along the baselines. The only thing they need to do to upgrade is to get rid of the upper level older wooden bench seats.
3. Montana – Surprised? Me too. I expected something akin to a Big Sky version of Rupp Arena with everything I had heard about this facility. I frankly was disappointed…oh it's nice don't get me wrong (if you don't count the unfinished ceiling…I love looking at duct work, electrical cables and insulation!) but it just didn't match the hype in my mind.
4. Idaho State – The Bengals spent a lot of money upgrading Reed Gym and it shows. It's a good facility. The only issues are the bench seats and the lack of room along the baselines.
5. Northern Colorado – An older facility on the outside that was upgraded internally. Nice lighting but the overall look is that it's a little too big for basketball, maybe if more fans were in the building from when I saw it; it would have a better feel.
6. Sacramento State – Like with Montana, reality disproved perception. Yes it's small… very, very small… but the floor is well kept, the facility is clean. Now all they need are some real live people in the seats.
7. Portland State – Another Sacramento State in my mind. Small…few fans. The facility just didn't look as good to me as Sac State's did. Maybe it's the color scheme?
8. Montana State – As Brad Bugger told me, 'this is an old rodeo arena.' Brad had it pegged right. It's too big for basketball, and can't work for football. They try to cut the size down somewhat with curtains but the room along the baselines extends to forever. Most of the facility floor is covered with the old tartan surface from back in the early 80's that is ripped up, torn and dirty. MSU has good teams and good fans…they can do better then Worthington Arena.
Northern Arizona gets an incomplete grade because the Big Sky track championships pushed ISU-NAU to the Rolle Athletic Center. If for some reason, NAU permanently played their games there, this facility would rank dead last to me. No room along the baselines, the lighting is odd (shooting the ball from the baseline results in you looking almost directly into the ceiling lights) and as for fans. Well during the National Anthem, I counted 125 people, with about 25 of them ISU supporters.
--------------------------------------------------------
It's been an interesting and fascinating year for me as the new play by play voice of the program. I didn't realize how hard the coaches and players have to work until I spent a lot of time with them. If there are two things I can stress to you, loyal reader, about the program it's these.
1. These are dedicated individuals doing what they love to do under sometimes very hard and difficult circumstances. Road trips are very tough because you can't leave from Pocatello and remember these players have to study as well. I can personally testify that they seem to do this all the time…on the bus, on the plane, after practice.
2. This program is headed for very good days ahead under Seton and his staff. It won't happen overnight, and I'm not saying they are going to become the next Montana, but to me the groundwork has been laid this season for a team that will play hard and be a genuine contender on a yearly basis in the Big Sky Conference and perhaps in the post season at various levels.
Mark Liptak