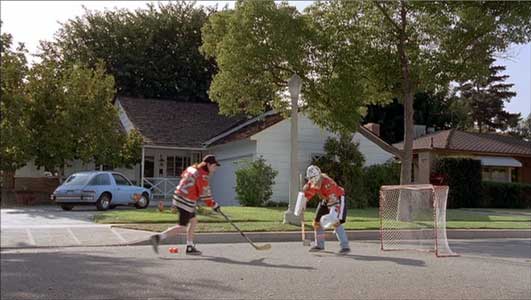 I'm so excited that the 2008-09 athletic season has started .... and it was a win. Yeah! No more talking about my roller hockey exploits (despite the fact i posted two more wins last night in goal, and picked up a second assist on the season, setting a record for assists in a season by a goalie, but I digress). The soccer game was brutal, and I apologize for how horrid I was on the air ... it was an exhibition for me too.
ISU Soccer 4, Northwest Nazarene 0
Anyways, Tim Flagstad was at the game, and
has this report
. Plus, and this is why we love the internet, all the stuff that couldn't make it into print
is on the Journal Blog
, which is a must after ISU home soccer matches, and Tim gets some good stuff into the blog.
The Interview
Kellis Robinett is gone for the next two weeks, as he is off to Kansas to get hitched ... apparently wedding in Kansas are a lovely affair, and no, I'm not bitter about not even getting an invitation, since he knew I couldn't go. Still, I'd have gotten him a gift, but I digress again. However, before the K-Man left the state, he conducted a very fun interview with John Zamberlin for his "
The Interview" segment on his blog
.
It's Almost Game Week
Boise State has selected their starting quarterback for the opener against the Bengals, and they are going
with redshirt freshman Kellen Moore
, who ran the scout team last year. Of course, it was just last season that Idaho State did the same thing, starting redshirt freshmen Russel Hill after getting elevated from the scout team the previous fall. Now Hill was a greyshirt, so he had two spring seasons of practice, but Moore also had about seven extra weeks of practice due to the Hawai'i Bowl practices.
All the reports on Moore
, a 6-0 lefty, is that he is a little undersized, but is a smart, solid student of the game, who has a natural feel for the position. Sounds alot like Hill, doesn't it? Anyways, you can now rush out and
get a Kellen Moore jersey of your very own
...in youth sizes too.
Quick trivia
Prior to Hill, can you name the last Bengal freshman that started a season at quarterback? If you said true freshman Seth Burford in 1997, you are actually wrong....it was Jason Whitmer back in 1988, who incidentally threw a 78-yard touchdown pass on his first collegiate snap. Burford started nearly every game in 1997, but he didn't start the opener...that honor went to Gary Anderson.
This is Cool....
Check out the trivia question
in the Los Angeles Times. Glad we could help them out with that one.
Another Day....
....another dance camp, and another
set of awards for the Bengal Dancers
. By the way, I won a Media Guide Design Award a couple of times ... can I call my self the Award-winning Media Relations Director?
Bye Week Blues?
Dan Thompson
has a long piece on how the Bengals are playing 12 games in a 13 week stretch this year, so ISU doesn't have a true bye week
. Of course, our bye-week is September 13, but I believe what Dan is talking about is the fact that because we play the Thursday after the bye week this year, our bye week will actually be shortened since we have to get ready for a game two days earlier than normal. Still an interesting piece, and it's always fun to read something with a Demetrius Amos quote.
This Really Grinds My Gears
Wanna see the types of things that annoy me on a work level? Click
this
. RRRRRRRRRRR. Of course you can look at that compared to
this
and say that we win.
Quick Podcast Alert
I've been asked to do a podcast interview for
Bronco Nation N.O.W.
for sometime next week. I'll link to it when it's up, and I'll see if they can maybe get our logo to not be so squashed.
Reminders
Football scrimmage at 3:00 pm today, not 4. Also, soccer at 4 tomorrow at Davis, and volleyball's alumni match is Saturday at 3.