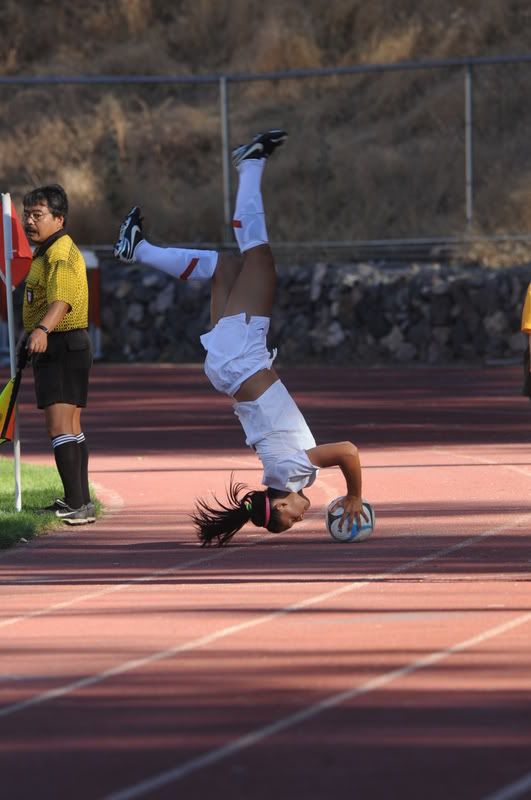 Well we had a pretty good crowd on Friday for the ISU soccer game, and boy did they get their money's worth. Idaho State scored with just 16 seconds left in the second overtime to win the game, running the teams' undefeated streak at home to 13 straight, going 10-0-3 in the process, the longest such streak in school history, and stretching back to 2006.
However, the real fun at the ISU soccer games is the flip throw-in. The Bengals have two players who can do it in Alex Hanson (that's her in the picture), and Jen Munro. Definitely an eye-opener.
Anyways, here is Katie Zigars'
detailed release on the exciting opener
, and
Tim Flagstad of the Journal
had this take.
KIDK
,
KIFI
, and
KPVI
also had reports (those all are viewed best with internet explorer by the way). Also, Flagstad did a nice piece on an
interesting Utah connection
for some of the players.
It's Game Week for Football

Lots of football stuff coming up. The Idaho Statesman has a ton of stuff from this weekend. Chadd Cripe has a
pretty good rundown of the new rules
that are in play, and then the Statesman has season previews on both
Boise State
and
Idaho State
. Also, Dan Thompson checked in with a great historical piece on the
three interstate schools
and their rivalry.
Game Notes Lives
It's irreverent, it's silly, it's my chance to be silly for television folks...yes, it's Game Notes, and they are back for week one of the 2008 season. Seriously though,
go here
, click the link, and enjoy. As soon as Boise State's notes are live I'll link to them here. Same for the
Big Sky notes
.
Shout Out from the Esteemed Mr. Lukas
Paul Lukas of ESPN.com's Uniwatch is running his NCAA college uniform college this week, but the editors at ESPN.com have stated it will be for FBS schools only. Paul however, ran all of the information on Idaho State's changes, including the first look at the road jersey, on
his must-read uniwatchblog.com
site. The Idaho State information is in the ticker, but make sure you read about the uni-snafu from yesterday, where Adam Everett's jersey said "MINNESTOA" ... classic.
Volleyball gets ready with scrimmage
The volleyball team looked much improved in their scrimmage on Saturday, and
here are the stats and stuff
.